Master Spa Hot Tub Covers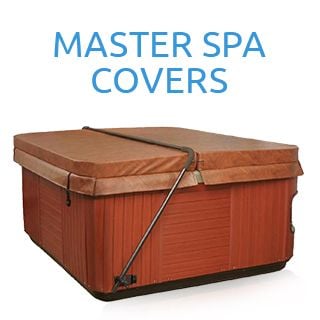 Owning a properly-sized Master Spa hot tub cover is best way to keep the heat in, the cold out, and your energy bills low! As heat rises from your spa, a well-insulated cover will act as a barrier and prevent the heat from escaping.
Whether you're looking for a new or replacement hot tub cover, we'll help you identify the best hot tub cover sizes and styles that will work best for your Master Spa. All of our Master Spa hot tub covers are made on-demand to match your spa's specific make and model—ensuring a snug, perfect fit for maximum heat retention. Better yet, every hot tub cover order placed on MasterSpaParts.com qualifies for Free Shipping!
Master Spa Cover Sizes and Styles
As an authorized Master Spa dealer, we are able to offer a wide selection of hot tub cover sizes and styles. You can choose from energy efficient covers up to six inches thick.
If you need help measuring your spa to identify the proper cover size and fit- we're happy to help. Just give our customer service experts a call at (855) 308-2149.
When is it time to replace your Master Spa Covers?
To ensure proper insulation, most Master Spa hot tub covers should be replaced every 3-5 years. If your cover is too old or waterlogged, heat will escape right through it, causing your spa to run inefficiently—and run up your energy bill!
Below are a few common indicators when Master Spa hot tub covers need replacing:
HEAVY WEIGHT: Your cover is heavy to lift or water leaks out of it.
DETERIORATION: The inside lining has started to break down or turn a different color.
LENGTH OF USE: You've had the cover on your spa for 3-5 years in a colder climate (5-7 years in a warmer climate).
If you have any of these indicators, it's likely time to start looking for a new Master Spa cover. You can browse through our selection of hot tub cover sizes and style below or give our customer service team a call.
Questions About Master Spa Covers?
A Master Spa Parts representative is more than happy to help and speak to you about the different hot tub covers and cover sizes! Call our Customer Service team today at (855) 308-2149.
Shop Master Spa Hot Tub Covers by Series