AquaChek Guide
AquaChek test strips provide you with all of the important spa water results in just one dip! Whether you use AquaChek yellow, red, or the Aquachek TruTest test strips and digital meter, you'll get accurate results regarding your hot tub's water impurities in seconds.
How to use AquaChek test strips
Getting your spa water results is easier than ever! Simply take one of your AquaChek Silver 7-Way Test Strips and dip it into your spa. Make sure you go at least elbows depth and remove right away. While holding it level, let the test strip sit for 15 seconds. After that time, you will compare the color on the strip, to the color on the AquaCheck Color Chart located on the bottle. During this time, be sure not to wipe or dry the test strip. Be sure to read the results in daylight to get the proper color, and never reuse!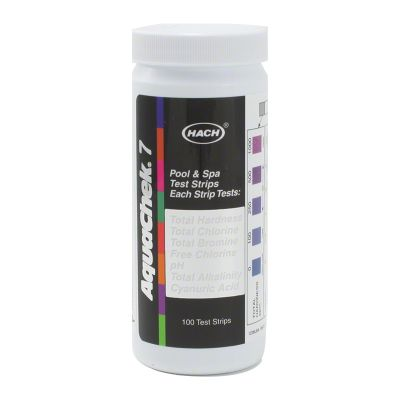 How to use AquaChek TruTest
AquaChek TruTest Reader ( Chlorine or Bromine ) is a super simple way to test your hot tubs spa water levels! It tests for Free Chlorine (Blue) or Bromine (Red), pH, and total Alkalinity.
Turn the reader ON by pressing power button

Press the start button, and dip a strip into your hot tub simultaneously.

Remove the test strip immediately and lightly shake off any extra water on the strip.

Place the tip of the strip in the back end of the unit - lay it flat with the pad side down.

Whatever you do, don't slide the test strip across the glass!

Wait for results - without holding onto the strip!
Need Aquachek test strips or TruTest refills?
Master Spa Parts carries the AquaChek test strips and TrueTest readers. You can find those AquaChek test strips and TruTest refills here! Anytime you need to refill, we have what you need!